VOLKSWAGEN SHARE PRICE
In the German language, Volkswagen means "The People's Car". However, the People as a whole are energetically rejecting Volkswagen cars in favour of other brands of automobiles. Volkswagen (VW) as a company has suffered tremendous financial losses and has fallen from grace because of the cheating devices that gave rise to the emissions scandal that affected 11 Million vehicle globally. The cheating German auto manufacturer, recently announced a EUR4.1 Billion euros (USD4.6 Billion) operating loss for the year 2015 and set aside an additional sum of EUR16.2 Billion (USD18.2 Billion) to pay for its diesel emissions test-rigging scandal. But regardless of the amount of money Volkswagen is throwing at the problem, the VW share price had already plummeted from US$244.30 in early April 2015 to US$166.98 by mid September 2015. This 32% decline in share price slipped even further by a whopping 18.5% to close at USD 136.15 by of third week April 2016. So within one year and two weeks the Volkswagen share price fell by a massive 44.3% in value.
Volkswagen's USD 18.2 Billion shlush fund is destined to cover the costs of legal expenses, penalties, claims, recalls and vehicle buy back from all the countries affected by the diesel emissions cheat software, essentially to cover all cost incurred last year. Somehow this US$18.2 billion is likely to be just the beginning of their woes because on Thursday 21 April 2016, a US federal judge announced that Volkswagen promised the US government that they will buy back as many as 482,000 diesel cars, as well as pay all penalties to make up for the pollution generated by their cars.
Having said that, it's been a very bad week for German automakers as a whole because a US attorney seizing an opportunity to make hoards of money, has sued Daimler over Mercedes Benz's diesel pollution. He hired a company to test Mercedes-brand diesels driving on real roads, the findings showed that they spewed out much more nitrogen oxide virtually all the time than the amount stated. He shared the test results with California regulators which will surely trigger an inquiry by the US Environmental Protection Agency, into Daimler Benz's emission figures. He also intimated that there could also be some complicity on the part of European governments. Daimler said the lawsuit's claims are totally without merit and that the investigation is unrelated to the VW emission scandal. The company also repeatedly denied using emission defeat devices or manipulating emissions tests.
However Daimler AG did concede that the US Department of Justice asked the company to investigate irregularities in diesel emissions in its Mercedes brand vehicles. Now that at least two German automakers are under US scrutiny, the emissions-cheating witch-hunt could be growing exponentially. Senior Kelley Blue Book analyst Karl Brauer said that Mercedes Benz, Volkswagen and other automakers, and several governments have known for years that diesel cars only met with emissions standards in the lab, but not on real roads. He also added that it was so understood, even if not documented; essentially an agreement between the automakers and the European governments. Hardly had the above transpired when Germany's transport minister announced that five automakers agreed to recall 630,000 diesel vehicles in Europe following an investigation into emissions levels. Recalls include Mercedes and Opel, as well as Volkswagen and its subsidiaries Audi and Porsche.
Earlier this year, Dutch emission tests revealed that a Mercedes C-Class BlueTec diesel emits 40 times more nitrogen oxide on road tests than in lab tests. In other tests released by the British government during this week, have shown that diesels from Daimler and other automakers, including Ford Motor Company, Nissan Motor Company and Hyundai Motor Company, perform vastly differently in lab tests than they do on the road.
Volkswagen, the German carmaker Volkswagen announced on Friday past (April 22) that the massive engine-rigging scandal it is currently engulfed in, pushed it into an annual loss, for the
first
for more than 20 years, but the final total costs are still incalculable.
Back in Tokyo Japan the latest fuel consumption misconduct is at play. Mitsubishi is embroiled in a fuel-consumption scandal affecting thousands of its vehicles and admitted to 'cheating' since 1991. They have been using an improper fuel-efficiency testing method for the past 25 years and have no idea how many cars are affected sold overseas that exceed the already known figure of 600 00 vehicles.
Mitsubishi admitted that a group of unnamed employees rigged
fuel consumption
tests back in 2002 to make some of its cars seem more fuel-efficient than they actually were.
A decade ago Mitsubishi was pulled back from the brink of bankruptcy when it was found to have covered up a series of vehicle defects. But today
Mitsubishi plans on compensating customers in a bid to limit the fallout from the scandal. Meanwhile Transport ministry authorities raided Mitsubishi's offices earlier in April.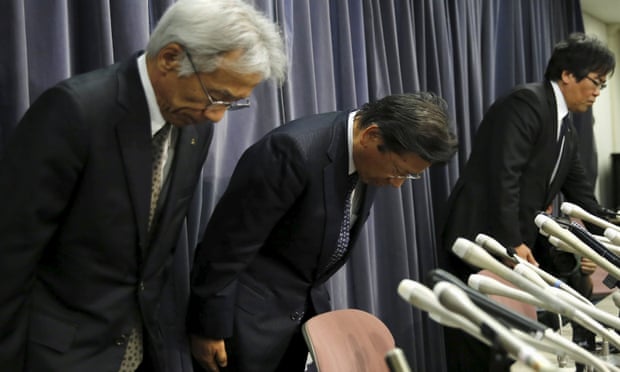 Mitsubishi Motors Corp's president Tetsuro Aikawa bows with other company executives
at a news conference. Photograph: Toru Hanai/Reuters
These embarrassing global scandals have raised questions about the Japanese and German carmakers future, but points to a broader problem in the global car industry as regulators probe other automakers' pollution and fuel-efficiency standards.
While the echos of these announcements are is still resonating in the ears of the motor industry,
Germany's transport minister Alexander Dobrindt said Volkswagen's emissions-rigging scandal
sparked
a inquest and
found irregularities at 16 car brands, amongst which are Mercedes, France's Renault, Alfa Romeo, Chevrolet, Hyundai, Jaguar, and Nissan.